About Us
The scientists behind MooScience are Susan M Fluegel, PHD and Heidi Fluegel, MS. Since we both love everything dairy and everything science we decided to combine the two into one website, MooScience.
Dairy is a healthy food high in beneficial nutrients. However, there are a lot of misconceptions about dairy and whey. We built this website to highlight recent research showing that eating dairy can promote good health.
Over the coming months we plan to build on this website to add more about why your favorite dairy foods are also good for you. Check out our pages on how dairy can help prevent heart disease, curb diabetes, fight metabolic disorders and combat obesity.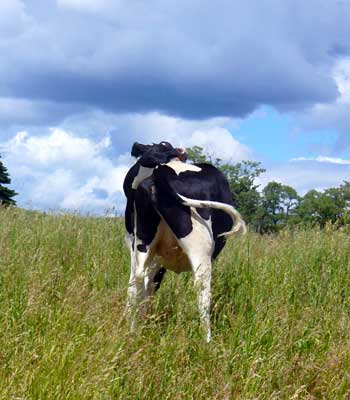 Picture: Holstein heifer licks her back.
Susan: As you may have guessed by our extremely similar last names, Heidi and I are related. I consider myself lucky in that not only did Heidi marry my brother, but she also worked with me researching the effect of a whey protein drink on blood pressure.
Susan M Fluegel, PhD Nutritional Biochemistry
Susan is a Nutritional Biochemist who confesses to a tremendous fondness for all things dairy. Raised on raw goats' milk, she has retained a grudging appreciation for the stubbornness of goats ever since. Susan's varied interests include researching obscure nutritional and medical information for friends, reading anything she can get her hands on, growing garlic, and dragging people on long hikes up mountains.
In her spare time she loves to accost unsuspecting acquaintances with improvised monologues about why chocolate improves health, how to eat for optimal mitochondria health, which fats help the brain grow, eating for maximal athletic performance, and why soy is an evil bean. Susan also is interested in how foods can influence moods, eating for optimal happiness, vitamin and minerals, metabolic systems, brown fat and dieting fads and frauds. Susan tries to blame her tendency to lecture on her college teaching experience; however, those that know her suspect it is an inborn trait.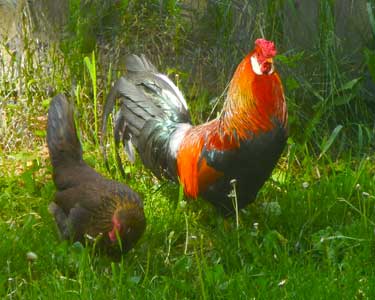 Picture: A colorful pair of Brown Leghorns enjoy the green grass.
What most people don't know about Susan: She is a lifelong expert on chickens. She obtained her first pet chicken, creatively named White Rooster, at the age of five. Later her flock expanded to just under a hundred chickens of every kind and breed available. Her mother referred to her flock as 'Susan's Retirement home for Chickens'.
Susan can converse endlessly on breed characteristics, egg size, rare chicken diseases and which chickens are more 'pettable'. As you can imagine, this topic of conversation is even less popular than that of nutritional deficiency symptoms (however, the chicken pictures are cuter!). Currently she is chicken less.
Heidi Fluegel, M.S. Plant Pathology
If research is to be done, Heidi will be there. Heidi is passionate about researching everything she can. If you want something found, she can usually find it. While in grad school, Heidi loved playing with different beneficial bacteria and fungi that could work symbiotically with plants to prevent disease.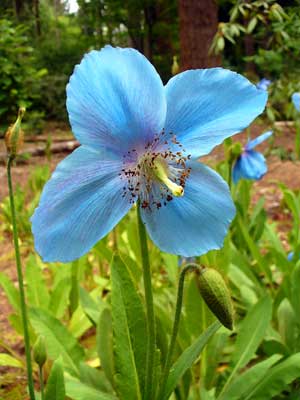 Picture: A blue poppy (Meconopsis lingholm) in full bloom. Blue poppies are extremely hard to grow
While working on her master's thesis, Heidi joined the department of Nutrition at Washington State University to study the effects of whey protein on the health of people with moderate to high blood pressure. This research has led to her latest passion on how probiotics and other nutrients can affect your health. Heidi is married to her best friend, John, and has three young children with whom she spends most of her time.
Our website partner
Our partner in this website is Choopoons, LLC. Choopoons is a small family owned Greek yogurt and yogurt smoothie business. Choopoon's yogurts and drinks are based on 'Old World' products and flavors.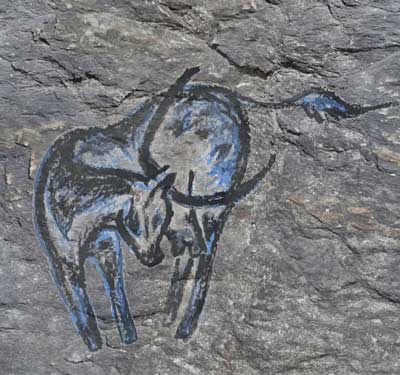 Choopoons wanted to make authentic Greek yogurt without contributing to the acid whey problem. So they came up with the idea to use the 'leftover' acid whey in a traditional Middle Eastern yogurt smoothie. The sweet, salty and sour drinks are an ideal drink for acid whey inclusion.
After tasting the Choopoons Greek yogurt, my sister-in-law Heidi also agreed to help me with the MooScience website. Heidi and I were very impressed by the yogurt's creaminess and quality (and we eat a lot of yogurt). We are actually pretty sad that we are across the country from this source of delicious full fat yogurt.
Although Choopoons helps support this website, the content and science is all up to Susan and Heidi. We research, write and approve all the information on MooScience. Susan and Heidi also have total control over all website content.
Our reputation as scientists depends on the accuracy of our statements. That means, if you read it here we will support it with real research not wishful marketing promises or made up pseudoscience.